Based on the tourism score, the best time of year to visit Milwaukee for warm-weather activities is from late June to mid September.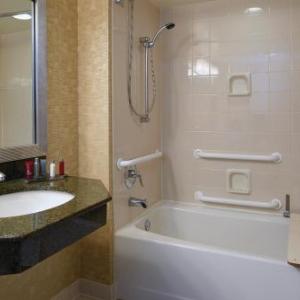 A 10-minute drive from the center of Waukesha, the Mariott is a half-mile from I-94 and 17 miles from downtown Milwaukee. Drive six miles to Wanaki Golf Course or 10 miles to the Milwaukee County Zoo for family fun. Miller Park is 14 miles away. It's 23 miles to General Mitchell International Airport.
Top Trending Milwaukee Hotels
Top Milwaukee Airport Hotels
Hampton Inn is three miles from Mitchell International Airport. The Milwaukee Art Museum, called one of the new century's most important buildings, is less than 10 miles away, as is the technologically advanced Discovery World. Sports enthusiasts will enjoy visiting nearby attractions like Miller Park, Milwaukee Mile (world's oldest operating motor speedway) and the U.S. Cellular Arena, all within 10 miles of the hotel.